Uwe Imbach, long-standing General Manager Central Europe at CarGarantie, is retiring this year. Mr. Imbach looks back on a long career with the specialist insurer and was most recently General Manager for Special Projects Sales. His tasks will be taken over by experienced experts from the CarGarantie sales force.
Uwe Imbach's career at CarGarantie began in 1986 as a district manager in the sales team. Six years later, he was already in charge of the entire North Rhine-Westphalia area as Regional Sales Manager and finally rose to Sales Manager Germany in 2005 and General Manager Central Europe in 2010. In this role, he managed the CarGarantie sales organisation in Germany, Austria and Switzerland, and also Denmark starting in 2017. During this time, he established extensive relationships with retailers and manufacturers and was instrumental in the development of numerous cooperations and projects that have shaped the success story of CarGarantie. Throughout his work, his passion for the subject as well as for customer contact was always in focus, and both contractual partners and colleagues appreciated his commitment, enthusiasm, competence and team spirit.
After almost 35 years with the Freiburg-based company, Mr. Imbach will retire on 30 June 2021. In preparation for this change, CarGarantie has already organised his succession at the beginning of 2021. As General Manager Europe, Edyta Wasiluk will be responsible for European sales activities outside Germany, while Germany will continue to be managed by General Manager Germany Sascha Schüren. In Austria and Switzerland, Ivan Lattarulo is responsible for sales as the new Director Austria and Switzerland. The Directors Cooperations under General Manager Cooperations Claus Schlicker will continue to look after manufacturers, importers and banks. All experts have many years of experience at CarGarantie and are well established in the industry in order to make the transition as smooth as possible for contractual partners and to continue to ensure optimal support.
The management thanks Uwe Imbach for his work and commitment and wishes him all the best for his retirement.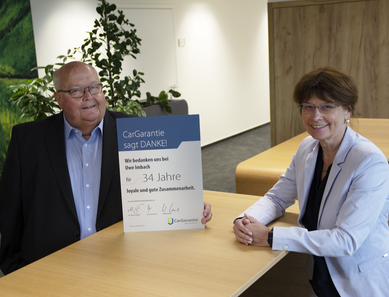 Open image in overlay