New product family developed: AutoCare, CampCare, BikeCare
All products available in the Santander Flatrate package
Product update AutoCare: A total of 16 component groups with 336 components covered
Santander and CarGarantie agree on a strong partnership in the field of vehicle warranty. Starting in November 2020, the largest manufacturer-independent vehicle financier and one of the leading specialist insurer for warranties will offer a further improved repair cost insurance with the products AutoCare and the new BikeCare and CampCare for the most important components of motorbikes and motorhomes.

The product updates contain several highlights: AutoCare is available for vehicles up to eight years after initial registration. You can choose between 24 and 60 months duration, and AutoCare is valid for up to 250,000 km total mileage. The warranty covers 16 component groups with a total of 336 components, including electrical and hybrid components and advanced safety systems. In addition to AutoCare for cars, BikeCare for motorbikes and CampCare for motorhomes are also offered. This means that customised warranty products have also been developed for the motorbike and motorhome segments.
Thomas Hanswillemenke, Director of Mobility at Santander Germany:
"Together with our new partner CarGarantie, we are pleased to be able to offer our dealer partners and customers improved and new Santander Care products as an attractive combination product for all types of vehicles with immediate effect. It was important for us to significantly develop the AutoCare repair cost insurance in all parameters, in order to be able to offer even more advantages and security to dealers and customers. With the Santander AutoFlat, the BikeFlat and the CampFlat, we are now launching a tailor-made product family that is not yet available on the market in this form."
The repair cost insurance AutoCare is known as one of the four supporting pillars of Santander AutoFlat. With the two new products BikeCare and CampCare, this all-round carefree package is now available for motorbikes and motorhomes. With an attractive bundle product consisting of financing, the corresponding Santander Care product, the Santander Safe purchase price insurance and individual dealer services, customers have complete control and overview of their vehicle costs - if desired over the entire financing duration. The long-term contractual commitment provides not only the customer with secure future prospects, but also the dealership. These possibilities of customer retention until the next vehicle purchase as well as the assurance of repair and maintenance work in the own workshop make the Santander AutoFlat/CampFlat/BikeFlat an important factor for a secure future.

From the start, the cooperation will be supported by the strong sales team of the CarGarantie subsidiary Garantie-Service-GmbH (GSG), which specialises in free trade. GSG's specialists advise the trade on all issues relating to warranties.
Thomas Müller, Managing Director, Garantie-Service GmbH:
"The cooperation with Santander Consumer Bank AG is the perfect way to further optimise the product portfolio for the free trade. With the new product family, dealers can send a clear signal about the quality of the vehicles on offer and thus significantly increase the attractiveness of the offer and the loyalty of customers to their own company – and this thanks to the long durations of up to five years. In addition, dealerships are well prepared with this product, especially against the background of the extended liability for material defects, which will come into effect from 2022."
Press contact Santander
Marcel Gerblich
Project Manager Marketing B2B
02161 690-7069
Marcel.Gerblich@santander.de

René Hartmann
Head of External Communications
02161 690 5754
Rene.Hartmann@santander.de
You can find more information at: presse.santander.de

Santander Consumer Finance (SCF) is a leading consumer finance company with operations in 15 European countries. As of June 2019, more than 15,000 professionals provide tailor-made consumer finance products and services to some 20 million customers and around 130,000 dealer partners. SCF provides a wide range of consumer finance solutions, primarily through retail outlets, for which the company has developed unique expertise. But also via direct sales channels such as branches, call centres or websites. SCF is part of Banco Santander, one of the largest financial groups in the world.

Santander Consumer Bank AG is one of the top 5 private banks in Germany in terms of customer numbers. It offers comprehensive financial services to private and corporate customers through various channels. Whether online, via video advice or in person at the branch - Santander has a range of services and products covering a broad spectrum, from current accounts and credit cards to construction financing and securities business. In Germany, the bank is the largest manufacturer-independent financier of mobility and is also a leader in consumer goods. The wholly owned subsidiary of the Spanish Banco Santander is based in Mönchengladbach. Further information is available at: www.santander.de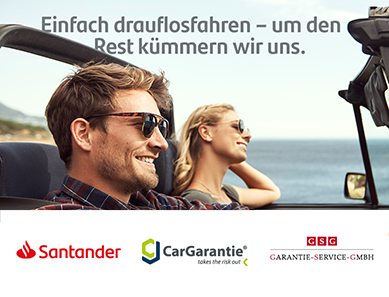 Open image in overlay