The Women's IT Network honours innovative and successful women entrepreneurs, managers and experts in the IT environment. This year, Anna Biesenthal, Board Member for Operations and IT (COO and CIO) at CarGarantie, achieved gold in the category Leadership - Executive Manager / CxO.
The Women's IT Network together with Vogel IT-Medien awarded the power women of IT in a total of eight categories. In a large reader poll, more than 15,000 votes were cast to determine the candidates for silver, gold and platinum. In the category Leadership - Executive Manager / CxO, candidates were nominated who have shaped the company with innovative working methods and their management style and have thus assumed a role model function. The award was presented during the online event "FIT & WIN Awards goes virtual".
The gold award honours the professional work and great commitment that Anna Biesenthal has brought to CarGarantie since the summer of 2019. On the CarGarantie Management Board, her focus is on IT transformation and operations. The focus is on the advancing digitalisation of both internal and customer-oriented processes, with the aim of further optimising service quality.
CarGarantie congratulates Anna Biesenthal on this outstanding achievement.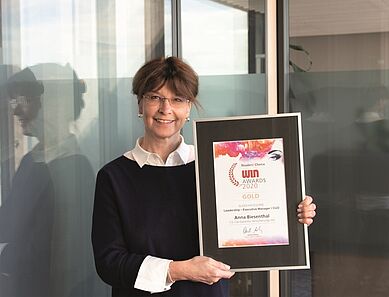 Open image in overlay